(Bunny ear, a map to treasure, a seed, a newly discovered planet, or something else yet to be named, 2010)
This book is waiting for us at the library this week. I am excited to get my hands on it.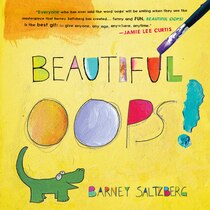 Barney Saltzberg
has created an (by all accounts, engaging) book for kids proving to them that there are no accidents in creating.
Oh unintended drops of ink and spilled coffee, pages smudged with peanut butter and eraser tears and drawing marks outside of the lines! How can I embrace you with more love, less dismal fear of failure? I hope this books helps me embrace you with gusto. Here's hoping the shadows cast over error, are diminished and creative opportunities are more fully realized and seen.
I'll let you know how Barney does on that count.